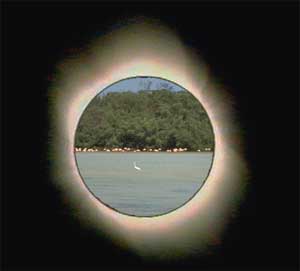 Total Solar Eclipse: 1998 February, 26
12:00 pm High Noon!
Location: Peninsula de Paraguana, Venezuela

In desert terrain on a lagoon, we observed flocks of Pink Flamingos, Spoonbills and a white Igrit during the total solar eclipse.
During totality, the spoonbills took to flight, the confused pink flamingos stood in the water chaotically flapping their wings and running into each other, the single igrit seemed somewhat unphased. Several planets were visible in the sky at totality: Mercury, Jupiter and Venus.