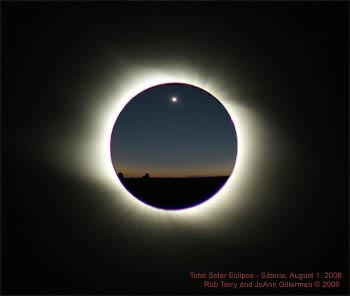 Total Solar Eclipse: 2008 August, 1
5:00 - -7:00 pm
Location: Russia, Siberia Countryside - South of Novosibirsk, North of Barnaul
The weather was dicey. Russian radio stations reported that cyclones would cover Siberia on Eclipse day. It was beautifully clear 2 days before the eclipse. But skies clouded up the day before, and thunderstorms hit the evening and night before eclipse day. Solid clouds covered the sky eclipse morning. The weather was too risky at our carefully scouted locations south of Barnaul - so we headed North to clearer skies. As the eclipse started, the weather cooled, and the skies became perfectly clear over our isolated beautiful Siberian countryside setting of rolling hills, water, tall grass, and trees. Insect and bird sounds abound.